Previous Post:
Louis Marble Mantel Fireplace Design
&nbsp Next Post:
Custom Marble Mantel in Beverly Hills Mansion
This hand carved marble mantel  is an Italian reproduction of the 18th century Louis XV. This mantel consists of a very popular marble with tiger stripes. This mantel represents beauty and nature. One can tell by looking at the frieze of the mantel because of the flowers in the center which show that beauty comes from within. The legs of this mantel are a wonderful design. The legs are sturdy and can support the weight of the mantel while at the same time being one of the eye catching parts of this luxurious mantel.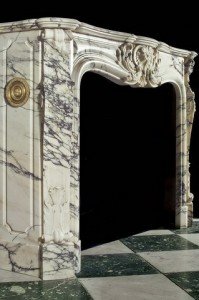 This mantel may seem heavy but it is not as it is carved out from the back and is hollow so it will not ruin your wonderful hardwood floor. On each side of the mantel a vent is placed to let out some air and take in some as well. These vents can be brass or bronze plated to add extra beauty to this already gorgeous piece. With this mantel you can use a wood burning, gas or electrical fireplace. For further information please call us toll free at 1-888-272-0630 or visit our website at www.marvelousmarbledesign.com.