Previous Post:
French Design Marble Fireplace Mantels From Marvelous Marble Design Inc.
&nbsp Next Post:
French Rococo Marble Fireplace Mantel Design
Marvelous Marble Design Inc. is known for their great designs in mantels of all designs such as the limestone mantel pieces, the marble mantel with TV on top and Gothic design fireplace mantels. They specialize in columns, fireplace mantels and kitchen hoods. These are components that are regarded essential in luxurious villas, homes and chateaux. Their continuous delivery is what has made them become popular among many clients in North America.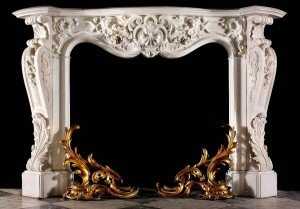 When it comes to French limestone fireplaces then look no further than Marvelous Marble Design Inc. We have a wide variety of French limestone designs that will impress you as well as give a variety of items to choose from such as the large custom limestone fireplace mantel and the Italian marble fireplace surround. Our skilled crafts men will custom make your French limestone fireplace to suit your custom décor living room measurements
California mansions are quickly realizing the elegance and style that comes with this French fireplace. For instance we have the Provence French limestone fireplace mantel. This mantel was specifically designed for North American residential homes. This limestone fireplace has one attractive feature that makes it a good option. It is less likely to ruin spoil your wooden floor because of its light nature. The focal point of this mantel is the wavy shaped limestone. There is a trim molding that is carved at the opening of the mantle fireplace. This rounds the opening edge of the mantles.
This master piece oozes luxury from the way the stone paneling and the masonry is done to perfection. The molding of the stage crown adds elegance to the mantel. There are three sections on the over mantle and they are professionally installed thus beautifying your living room. We are also able to customize the height thanks to the sections of the over mantle. For an elegant touch, you can add French chairs if you have any on either side of the mantel.
The French limestone fireplace is ideal for your California home and will definitely add elegance to your home. if you want to look at other hand carved French limestone mantel pieces then you can contact us on 1-888-272-0630 or visit our website for further information.