Previous Post:
Marble Fireplace Mantel
&nbsp Next Post:
Louis Marble Mantel Fireplace Design
Two protective and beautiful angles proudly guard the home in this wonderfully designed hand carved marble fireplace surround. This piece is an elegant addition to your custom built mansion in California or any state in the USA. With its accurate carving designs and wonderful corbels, this piece is sure to blow anyone away with its beauty.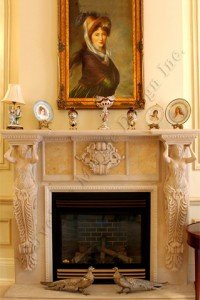 This piece is made of completely natural limestone imported from Spain, with flawless detail in the pure cream marfil touch by our expert designers.  With a gorgeous cream marfil style finish and wonderfully accessorized, this piece will look great in any custom built mansion bringing  a cozy and safe feeling into any home. For further information please call us toll free at 1-888-272-0630 or visit our website at www.marvelousmarbledesign.com.